Being a wedding photographer, I get asked a lot by my clients and wedding planners if I can get their wedding featured on a big name blog. I have a lot of experience being featured and being denied, so I do know what most of these blogs are looking for. Every blog is different, for example Green Wedding Shoes prefers funky, bold, unique weddings, while Style Me Pretty loves the pastel look of certain film photographers, the "pretty" weddings, and the expensive looking designs. Going into planning your wedding, you should know which blog you want your wedding to end up on, so you can make sure your aesthetic is right for that blog. Ask your photographer and planner for help, and even reach out to the blog editor for ideas! Blogs don't want to see things that have been done a million times, they want fresh ideas to inspire future brides and grooms. Pull inspiration from your everyday life, things you two like, your home decor style, your clothing style, etc. Think outside of the wedding box!
Our wedding was featured on Green Wedding Shoes! And I'm going to show you examples of each way to have a publishable wedding, by showing you photos and ideas from my own wedding!
1. Wear a unique wedding dress. And when I say wedding dress, I'm using that term loosely
I see brides spending thousands of dollars on a wedding dress that looks like everyone elses, when there are SO many unique dress options. I wore a $400 Free People dress, because after shooting so many weddings, a typical white lace wedding dress didn't feel special to me. Plus, I saved thousands of dollars by doing this, allowing us to splurge on our venue and florals! If you're looking for a cheaper dress to wear, check Free People, Revolve, and Poshmark. If you have a bit more of a dress budget, check out my my favorite unique dress designers below:
Rue De Seine // Sarah Seven // Daughters of Simone // Anna Campbell // BHLDN // Claire Pettibone // Lovers Society // Noel & Jean //
2. Dress your bridesmaids in more everyday bridesmaids dresses
Let me start off by saying the words bridesmaids dress somehow become synonymous with shiny, matching, weird colored dresses years ago. Lucky for us now, the options for what your girls can wear are seriously ENDLESS. From cheap Forever 21 dresses, to matching or mismatched Show Me Your Mumu dresses, to mismatched Free People dresses like I did, you have so many cute options! A bridesmaids dress at a bridal store will cost your girls $150-$250, so might as well let them spend that money on a cuter dress! This is also a big defining factor that could really put your wedding over the top for a blog accepting your wedding for publication. They love seeing girls dressed in a unique way, from each girl picking out their own dress, to a maxi skirt/top outfit, to a fun new print or style. This right here could set your wedding apart. Plus, I think bridesmaids always appreciate getting to wear a cute dress and look extra great in your photos!
3. Pick a beautiful or meaningful location/venue to get married at
We lived in San Luis Obispo, CA for 5 years and knew we'd be moving away shortly after our wedding. So when we were venue hunting, we decided that getting married in SLO made the most sense. SLO was and is such an important place to us, and we wanted to share that with our friends and family. We knew we wanted a full weekend venue too, so that limited our options. We also wanted an all outdoor venue (because photos look SO much better outside then inside), and we wanted a venue that felt like we could make it our own. After looking at a few other venues, we just kept comparing everything to this one, and knew it was the one.
4. Include personal, but not cheesy, touches
Some of our personal touches included the custom wood ring box Adam made for me, Adam's wood ring he made for himself, t-shirts that the girls wore that said #poffpartygirls (my Vegas bachelorette party hashtag was #poffpartygirlsdovegas, so it made perfect sense), I wore wood bangles made by Adam along with a turquoise bracelet from Adam's great grandma, we brought down our truck that Adam was given from his grandparents to use for photos, we handmade our ceremony backdrop and included a rug that we purchased (its now in our house), as well as milk cans from Adam's grandparents house, our officiant was one of our best friends, we placed our Adam <3 Danielle sign on our head table (Adam made this for me when we first started dating), and our table #'s were vintage postcards from places we had been or want to go. When you really think about it, it's easy to incorporate items that have meaning to you into your wedding day!
5. Keep your wedding style true to your personal style as a couple
We love Mexican food and ice cream (Negranti), so that was our food of choice! We also did late night mac and cheese, because we love that too! Adam loves to wear floral ties, so that was perfect for him and all the groomsmen. Being photographers, we added vintage cameras that we already owned as part of the table decor. We also don't like making things match perfectly, so we kept with this idea for our wedding decor too. If your everyday style is funky, fun, vibrant, unique, then make that your wedding style too. I often see couples who I know have a unique sense of style turn super wedding like when it comes to planning their wedding. Stay true to yourselves!
6. Design a unique seating chart or escort card table
Writing on windows, chalk boards, or having plain folded escort cards on a table are the ways we see seating charts done quite often. They are easy go to's, but if you really take the time to think about and do some googling, you'll easily come up with something more interesting! We opted to make a giant dream catcher for our seating chart. I spray painted a hoola hoop gold and bought a few different pieces of ribbon to attach to the bottom. My friend Asha of Wilder Floral wrote our seating chart for us (I have NO hand writing skills), and we attached them to turquoise ribbon. We then hung it from a tree near where everyone entered the reception.
7. Figure out an attire for your groom that makes sense with his style and your wedding style
A wedding doesn't have to be fancy anymore, it can be as casual as you want, if that's your thing. We aren't fancy people, so having a more relaxed style wedding was what we wanted. Adam wore a J.Crew shirt with a floral print tie, grey dockers, a brown leather belt, and brown dress shoes from Nordstrom. We had the groomsmen dress in a different printed J.Crew shirt along with any tan pants they wanted, and we gifted them each a floral tie. I often see girls mismatched at weddings, but it's nice to see guys looking a little different from each other too!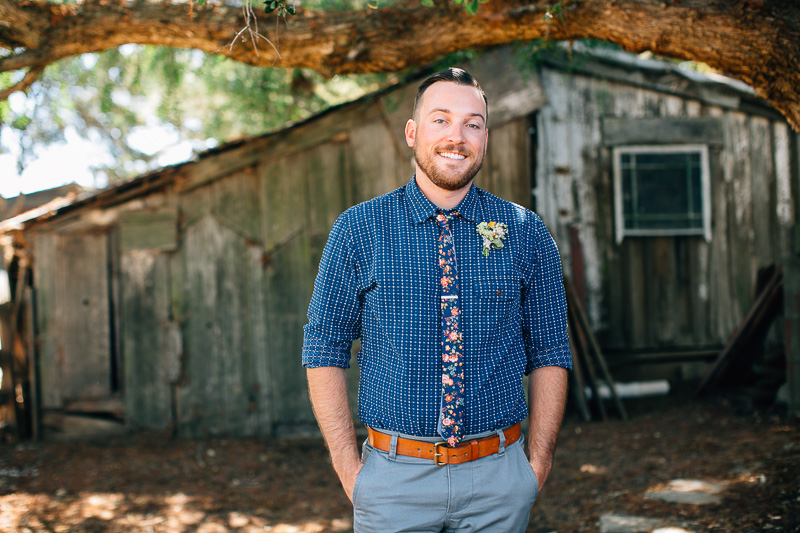 8. Have a LOT of really stunning florals, including bouquets
I knew that flowers were important to me, and a free flowing bouquet was high on my priority list. Twigss Floral Studio did all of our flowers, and I gave her creative freedom. I told her I didn't want any super expensive flowers, I wanted a lot of color, and I wanted long ribbon. Hiring a really good florist makes all the difference.
9. Design a cool ceremony space
This backdrop was inspired by a wall in a local store that I had seen and loved. I showed a photo to Adam, and he said, "I can make that!" After some Craigslist wood purchases and painting some wood from Home Depot, we started cutting and assembling this backdrop. We then decided to add in old milk jugs from Adam's grandparents to frame the alter, which we put greenery inside. For the spot we stood at, we bought a rug from Village Vintage, and we now use it in our bedroom. All of these ideas came together to make a big statement at our ceremony. The backdrop was also great shade and provide even light on our faces from the sun for photos :)
10. Include your pet!
Sawyer is like our child, so there was no question that he'd be included in our wedding. We wouldn't have picked this venue if it wasn't dog friendly haha. Sawyer got ready with me in the morning, joined us for our first look, walked me down the aisle with my mom, sat by our feet at the ceremony, and danced part of our first dance with us. He totally thought everyone was there to see and pet him haha. I love all of our photos we have with him, and it's such a special memory. Blogs loving seeing how you include your pets, so don't be afraid to have them join in on the fun.